About
The purpose of this homepage is to provide a distribution point for the report The livestock industry and climate – EU makes bad worse, written by Jens Holm and Toivo Jokkala.



Jens Holm is a former member of the European Parliament, where he represented the Swedish Left Party. He was a member of the GUE/NGL parliamentary group, and a member of the parliamentary committee on Environment and the parliamentary committee on International Trade. Author of Food, Environment, Justice – The Effects of Meat Consumption on the Environment and the Global Food Supply (Swedish, 2000; Finnish, 2001; English, 2003), Jens Holm was born and raised in Matfors outside Sundsvall, Sweden. He now lives in Stockholm.



Toivo Jokkala is a scholar and writer, PhD student in criminology at Stockholm University. 2005–2008 he was editor of the Animal Rights Sweden magazine Djurens Rätt. 2003–2006 he co-edited Fronesis, the award-winning Swedish journal on social matters. Author of the book Djurrätt och socialism (Lindelöws 2003; with Pelle Strindlund), Toivo grew up in Mjölby, Sweden. He now lives in Stockholm.

If you want to link to meatclimate.org, please use the following banners: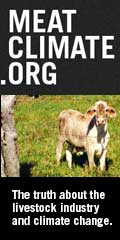 Site developed by Oscillator using Drupal. Theme design by Free CSS Templates. Ported by Goodwin Web Solutions. Running on Manufrog.se.